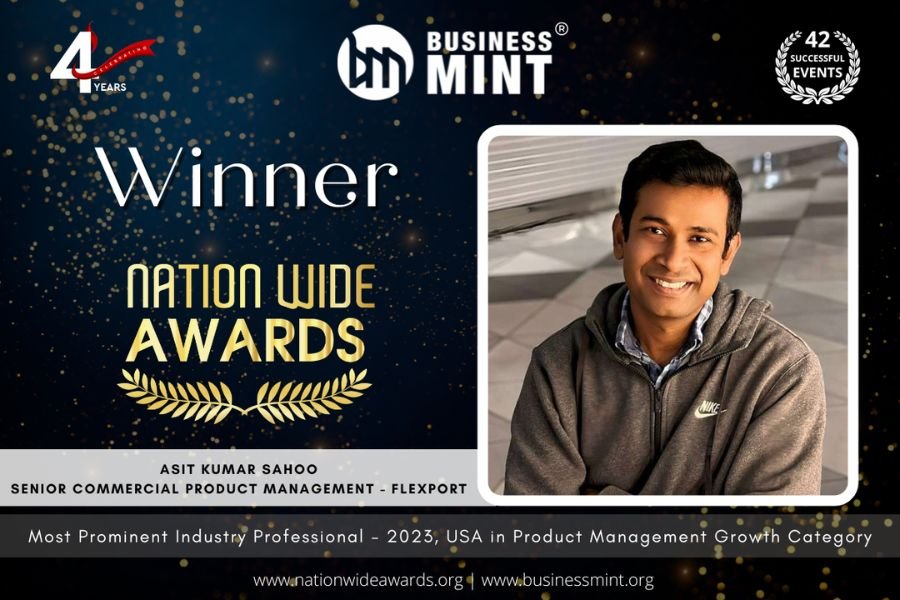 New Delhi (India), March 30: Product-led growth (PLG) is quickly becoming a must-have strategy for SaaS brands looking to scale their products and drive more efficient acquisition, retention, and expansion. Asit Kumar Sahoo, a Silicon Valley-based product expert with over 10 years of experience in product, strategy, and entrepreneurship, recently shared some tips and a framework that any company can use to succeed with PLG.
Asit's expertise in 0 to 1 product development and growth scaling is unmatched. He currently leads a new product line at Flexport, a company that has been named TIME's Most Influential Companies of 2022, and a CNBC Disruptor Company. Asit has advised CEOs of publicly listed companies, industry association leaders, and C-level executives, helping to turn around businesses and consult startups on creating new products and business lines in India. Additionally, he co-founded an e-commerce company that scaled the business 4x year on year in 3 years while setting up strategic partnerships with firms across India and China. Asit also led multimillion-dollar M&A integrations and launched new innovative products, leading the growth strategy for a $100+ million business catering to 3,500+ businesses in the US.
Asit explained that PLG is all about using the product itself to engage customers and drive growth. This lower-touch approach enables customers to start with a basic version of the product and pay as they grow, allowing brands to focus their sales and success teams on the later stages of the customer journey to drive stickiness and enterprise-grade expansion.
Here are five key pillars to use PLG to take your SaaS business to the next level:
Firstly, it's crucial to get high-level buy-in from decision-makers for any product-led strategy. Everyone, from marketing and sales to engineers and executives, needs to see PLG as an opportunity to create lasting value for their team, customers, and the entire organization.
Secondly, successful PLG depends on instilling a culture of data-driven experimentation and continuous innovation across your entire organization. User feedback and interaction data can be harnessed to fuel iterative innovation that feeds back into your release cycles.
Thirdly, customer acquisition should lay the groundwork for lasting relationships, with meaningful engagement as soon as a customer encounters your product. Personalizing the product's first mile can help customers realize the value inherent in your offering.
Fourthly, PLG is a holistic, end-to-end strategy capable of driving predictable, durable growth across the entire customer lifecycle. Product data can help you engage customers who are struggling with a particular use case or overlooking certain features.
Lastly, leveraging your product to optimize user experiences and drive successful outcomes is key to bolstering existing relationships and unlocking new ways to expand your offering.
By embracing PLG, SaaS brands can continuously engage customers, drive growth, and deliver lasting value for their organizations.
Asit's exceptional contributions to the product management field have earned him the Most Prominent Industry Professional – 2023, USA in Product Management Growth by Business Mint. An independent panel of judges recognized Asit's leadership, industry impact, and growth accomplishments, making him a deserving recipient of the award.
In summary, PLG is a powerful strategy that can help companies drive predictable, durable growth across the entire customer lifecycle. By following Asit's easy steps and framework, companies can capitalize on the potential of PLG and scale up. Asit's outstanding contributions to the product management field make him a deserving recipient of the Most Prominent Industry Professional award.
Content Submitted & Verified by Mr. Vinay Kanth Korapati, CEO – Business Mint
If you have any objection to this press release content, kindly contact pr.error.rectification[at]gmail.com to notify us. We will respond and rectify the situation in the next 24 hours.