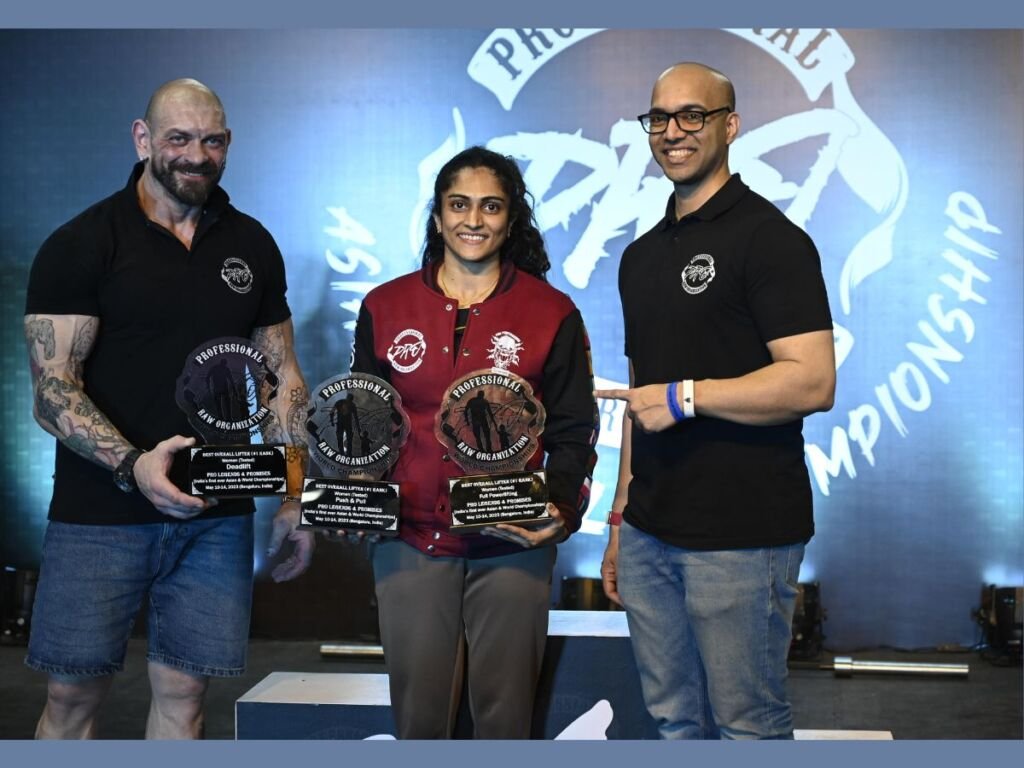 Sandro Eusebio, Nami Rai triple Asian champion, the Extreme League World champion & Saad Khayoom
Over a Dozen World Champions Compete Against India's Finest Athletes to Set New Records and Bring International Recognition to Indian Powerlifters
Bengaluru (Karnataka) [India], May 16: PRO League India, under the leadership of Saad Khayoom, has achieved a milestone by organising the first-ever Asian and World Raw Powerlifting Championships in India. The event was held in Bengaluru and witnessed the participation of over a dozen current world champions and athletes from Portugal, Hungary, Spain, Thailand, and the United Kingdom, competing against India's finest athletes to set new records and bring international recognition to Indian powerlifters.
PRO, founded by legendary powerlifter and strongman Sandro Eusebio, is an elite powerlifting federation based in Portugal that hosts the annual world championships across the world. PRO League India is the sole promoter responsible for sanctioning, hosting, and organising all championships in India with an organised national committee. Over the past year, the PRO League India has held over nine championships across Bengaluru, Delhi, Pune, and Nagpur to select over 100 champions across various age and weight categories in India.
The primary aim of bringing the fastest growing powerlifting organisation to host an internationally sanctioned powerlifting championships has been to enable all athletes of India, the youth and the senior athletes alike, to have an opportunity to compete at the elite level within their home country, minimizing travel expenses. PRO's selection process has been very transparent, with no bribes or commissions involved, and purely based on merit of the athlete's performances. All records are documented in the world record books as an officially sanctioned international competition.
The event also includes drug tested categories and does not promote the use of performance enhancements. PRO's future goal is to continue creating history and consistently bring more international championships where the best Indian athletes go head to head with athletes from around the world.
Seven-year-old Maryam Sawood is the youngest female athlete competing in the World Championships, looking to set another world record. Eleven-year-old Yusuf Sawood is the youngest male athlete competing in the World Championships, looking to set a new world record. PRO League India is also proud to have India's first powerlifting family competing together at the Asian and World championships, including the father, mother, daughter, and son (Sawood Ur Rahman, Mehak Sawood, Maryam Sawood, and Yusuf Sawood).
Sandro Eusebio, the founder of PRO, is also gracing this historic world championship by signing up to compete and set another world record to his ever-growing list of achievements. Saad Khayoom, a multiple-time national and world champion athlete, is the first Indian to bring the World championships to the country and create history.
PRO League India is committed to providing the best platform for existing and upcoming athletes of India and bringing international recognition for their accomplishments. The series of these championships was the initial step of a larger plan to achieve this goal, and this event marks a significant milestone in this journey.
Female athletes result for overall event 
-24 of the best female athletes across India and the world stepped up to compete at India's first ever Asian and World championships.
-Evelyn Eisensehr, the current world record holder from Hungary became world champion again and also won the Best Overall Bench Press among Women with a 127.5kgs lift.
-Filipa Vicente, 2019 World champion from Thailand won the Asian championships in five different events and also won the Best Overall Squat and Bench Press among tested athletes.
-Yusuf Maryam, at 7 years old become the youngest Asian and World champion by winning two different events in each championship.
-Noa Sara Eappen and Kasha Nia Sachdev both became a record five time world champions and set new world records in their events.
-Nami Rai became a triple Asian champion, the Extreme League World champion, and also won the Best Overall trophies in Full Powerlifting, Deadlift, and Push-Pull events.
Male athletes result for overall event 
-Over 50 of the best male athletes across India showed up on the platform today to compete at India's first ever Asian and World championships.
-We saw father and son duo, Sawood Ur Rahman and Yusuf Sawood become Asian and World champions in 5 events each.
-Puneeth Alva became a quintuple Asian champion, fulfilling a lifelong dream of representing India at the international stage.
-Masters – 6 athlete RB Singh, at 67 years old became a double world champion, and Shaikh Arif Pasha became an Asian and World champion in Bench Press as a Masters – 2 athlete.
-Other notable winners who set world records or became international champions include – Maximus Aurelius Aranha, Rajesh Duhan, Sahil Chaudhari, Adarsh Pawar, Vaibhav Rathi, Arvind S, Ajay Srinivas, Harsh Anand, Atharv Dangwal, Biren Rout, Darji Rohit and Vihan Bhargava.
-Luke Thomas, aged 8 years became the youngest male athlete to compete at the PRO World championships, finishing runner up.
If you have any objection to this press release content, kindly contact pr.error.rectification@gmail.com to notify us. We will respond and rectify the situation in the next 24 hours.