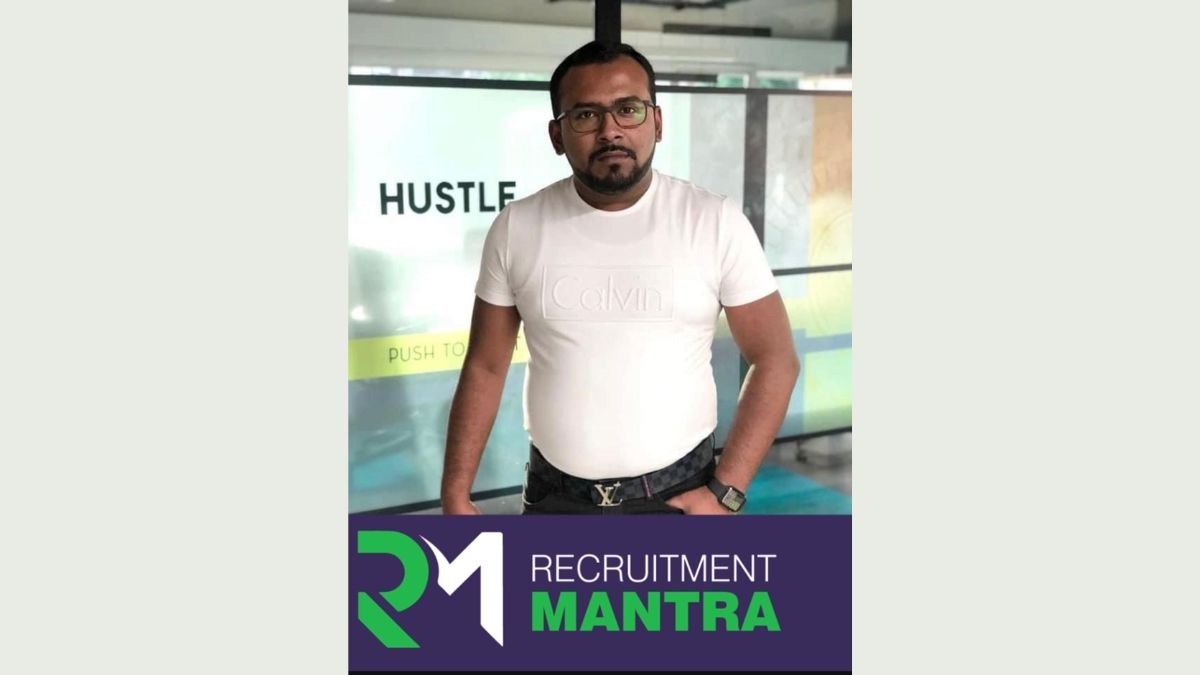 New Delhi (India), June 30: Arghya Sarkar, an accomplished entrepreneur and visionary founder of Recruitment Mantra HR Consultancy, has taken the recruitment industry by storm with his innovative approach and dedication. Based in Kolkata, Recruitment Mantra has positioned itself as a leading Recruitment Process Outsourcing (RPO) firm, gaining the trust of numerous renowned conglomerates and establishing itself as the most trusted recruitment agency in the region.
Arghya Sarkar's impressive track record and expertise in the recruitment field have been instrumental in the success of Recruitment Mantra. His passion for offering affordable recruitment solutions to startups and bulk hiring solutions to corporate entities has propelled him to the forefront of the industry. Recognizing the transformative potential of artificial intelligence (AI), Arghya has incorporated cutting-edge AI technology into his organization's working processes. Today, Recruitment Mantra HR Consultancy stands as an AI-based Recruitment Technology company, leveraging the power of AI to deliver efficient and effective hiring solutions.
One of the key factors that sets Arghya Sarkar apart is his unwavering commitment to providing job opportunities to individuals across all levels. He firmly believes that everyone should have access to employment opportunities without any financial burden. By aligning his mission with his actions, Arghya has made a significant impact on the lives of countless job seekers, helping them find meaningful employment.
Arghya's journey to success was not without its challenges. Starting from humble beginnings, he embarked on his career with determination and perseverance. Through relentless hard work and a deep understanding of the recruitment landscape, he has transformed his entrepreneurial vision into an established RPO company in Kolkata.
Arghya Sarkar's entrepreneurial spirit, coupled with his expertise in recruitment and dedication to providing job opportunities, has made him a sought-after influencer in the industry. With an active presence on various social media platforms, including YouTube, Arghya utilizes his influential voice to share insights, guidance, and thought leadership on recruitment and career development. His valuable contributions have garnered him a strong following and have solidified his reputation as a trusted source of information in the field.
For those seeking innovative recruitment solutions or individuals in search of job opportunities, connecting with Arghya Sarkar and Recruitment Mantra would be a valuable step in their journey. With a team of dedicated professionals and an AI-powered recruitment process, Recruitment Mantra offers a comprehensive range of services to cater to the diverse needs of both businesses and job seekers.
As Recruitment Mantra continues to make waves in the industry, Arghya Sarkar's vision and leadership are expected to drive further growth and success. With his commitment to excellence, dedication to job seekers, and focus on leveraging advanced technologies, Arghya Sarkar is revolutionizing the recruitment landscape in Kolkata and leaving a lasting impact on the lives of individuals and businesses alike.
To learn more about Arghya Sarkar and Recruitment Mantra, visit their official website at https://recruitmentmantra.com/ or connect with them on social media platforms such as Facebook, Twitter, LinkedIn, and Instagram.
If you have any objection to this press release content, kindly contact pr.error.rectification[at]gmail.com to notify us. We will respond and rectify the situation in the next 24 hours.