The Manchester City of India, Ahmedabad prepares to witness the mega take-off event of Save Earth Mission by Mr. Sandeep Choudhary- The Global Founder for the revolutionary list of projects and causes it has planned to deliver to the world
New Delhi (India), July 4: Ahmedabad prepares to welcome, buzz and emerge Save Earth Mission's take-off with anticipation as the team and the city collaborate to host an upmarket gala that is looking forward to captivating the world with its powerful message of environmental preservation. 
The Save Earth Mission's take-off event is scheduled for July 6 2023, that shall grace the lands of Gujarat with diverse global ethnicity. It highlights its aim to launch the official inception of a "superhero", who has been heralded as the saviour of our planet as said by the team with a glimpse of surprise. This theme aspires the audience to feel afresh within the corporate world and look forward to delivering and promising creativity, strategy and candour. This "superhero" shall also give in to be the ambassador of education and welfare and contribute in uplifting people as global citizens and their behaviours, nature, duty and loyalty towards the planet through campaigns across the globe. 
The esteemed Union Minister of State for Civil Aviation and Road Transport and Highways: General VK Singh, Sheikh Majid Rashid Al Mualla of the UAE's ruling family, and Mr. Dennis G Roberts, the visionary founder and innovator of Inflector from the USA, will grace the event as esteemed guests of honour.
The Save Earth Mission, a global initiative dedicated to reducing carbon footprints and promoting sustainable practices, has garnered immense support, with over 10 million people who actively are a part joining the cause. Their ambitious and major aim stands to reach a billion people over the next three years, fostering a worldwide movement towards a Zero Carbon future by 2040.
Global Founder of Save Earth Mission, Mr. Sandeep Choudhary, released a testimonial towards profound excitement about the superhero's imminent debut, stating, "On July 6, the superhero, dedicated to saving Earth, will grace their presence within us Earthlings. They will be welcomed by our esteemed chief guest, Shri General V.K Singh, and our respected guests of honour, Sheikh Majid Rashid Al Mualla and Mr. Dennis G Roberts. We eagerly await the superhero's first appearance at the event."
The organisation strongly emphasises the pivotal role that individual participation plays in reducing carbon emissions and embracing eco-friendly and sustainable lifestyles and to uplift tribes, villages, cities and its people for the uprising. Save Earth Mission extends an open invitation to all urging them to recognize the significance of this collective venture and emphasising that there is no alternative for our world as they firmly affirm and assert, "There is no planet B."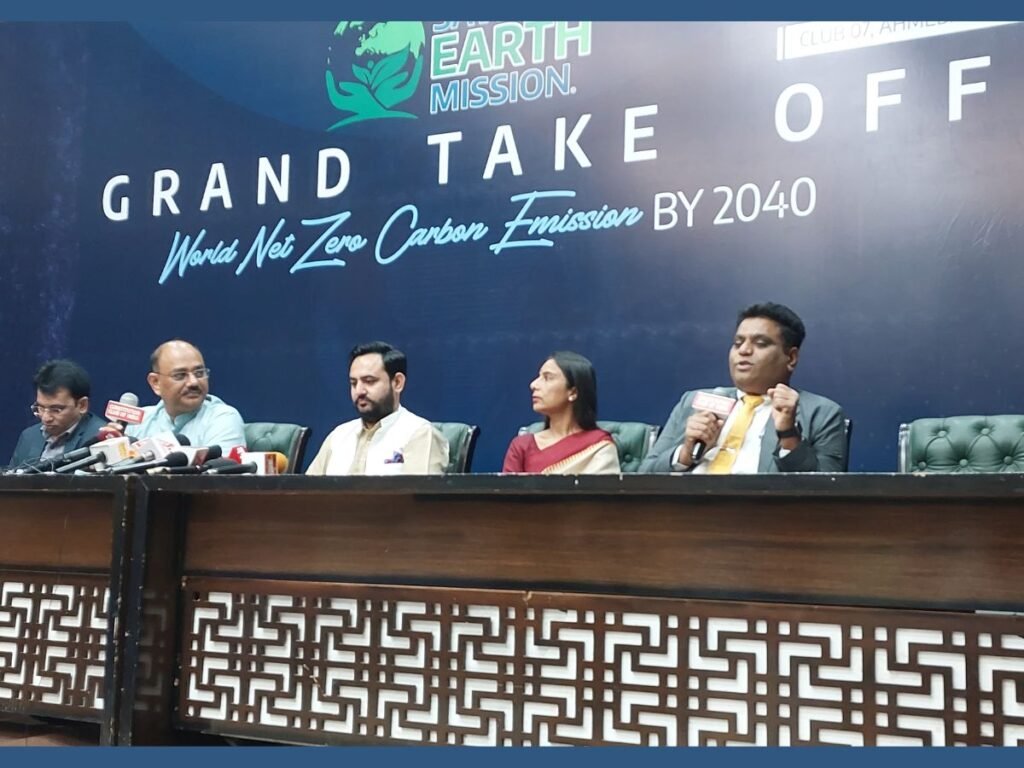 The Save Earth Mission's take-off event in Ahmedabad promises to be a transformative experience, heralding the arrival of the superhero and inspiring a global movement towards environment conservation. With its visionary leaders, dedicated community members, and widespread support, the Save Earth Mission is setting the stage for a sustainable future where the preservation of our planet takes centre stage.
If you have any objection to this press release content, kindly contact pr.error.rectification@gmail.com to notify us. We will respond and rectify the situation in the next 24 hours.